2016-7-12
·Target the oncogenes of HPV genome: E6/E7
·One reaction, 25 HPV types detection and genotyping simultaneously
·High specificity, no cross reaction between each HPV type and other pathogens
25 HPV types can be simultaneously detected and genotyped in a single reaction:
13 high-risk HPV types: 16, 18, 31, 33, 35, 39, 45, 51, 52, 56, 58, 59, 68
5 probably high-risk HPV types: 26, 53, 66, 73, 82
7 low-risk HPV types: 6, 11,42, 43, 44, 81, 83
HPV infection, the defined cause of cervical cancer
World-wide epidemiological studies have shown that cervical cancer is the second most common malignant disease in women. High-risk oncogenic HPV (Human papillomavirus) types (including HPV 16 and HPV 18) are associated with 99.7% of all cervical cancers, indicating that the presence of HPV is an obligatory element in the development of cervical cancer [1]. Persistent infection with high-risk HPV types may progress to precancerous lesions, which is the root cause of nearly all cases of cervical cancer [2,3].
The Benefits of HPV genotyping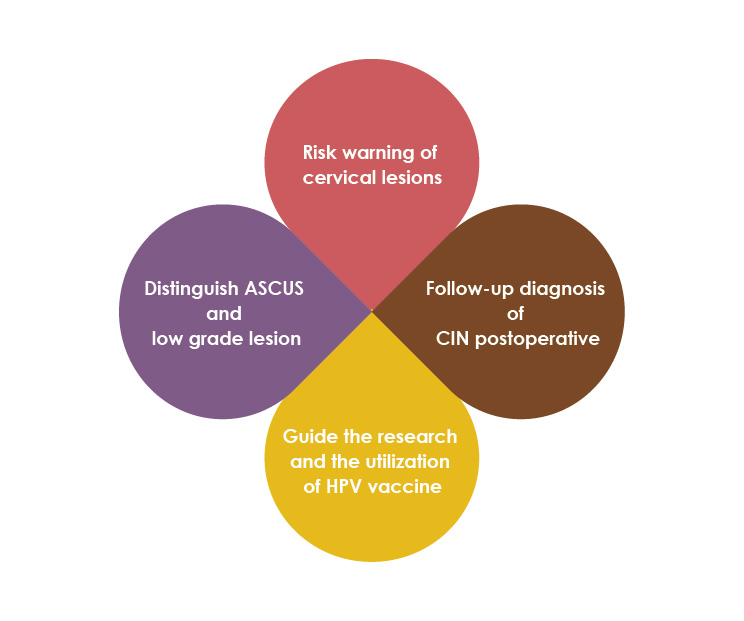 Target the oncogenes E6/E7


If a low grade lesion progresses to a high grade or invasive cancer, their HPV is likely to integrate. During integration L1 expression can be lost, but E6/E7 expression will always remain present. If the viral HPV is completely integrated then a L1 test looking for only L1 expression will miss this (pre)cancer, while the E6/E7 test will not miss it.[4]
Technology

Advanced Fragment Analysis, AFA[5]:


Technology:
Based on high-performance capillary electrophoresis, HGT has developed the Advanced Fragment Analysis (AFA) technique that is suitable for simple, rapid and effective nucleic acid assays.
Utilizing the superior signal to noise ratio and high resolution of capillary electrophoresis, AFA shows numerous advantages over other commonly used nucleic acid testing techniques:
· Multiplexing · High Sensitivity · High Accuracy and Specificity · High Throughput · Low Sample Requirement · Short Hands-on Time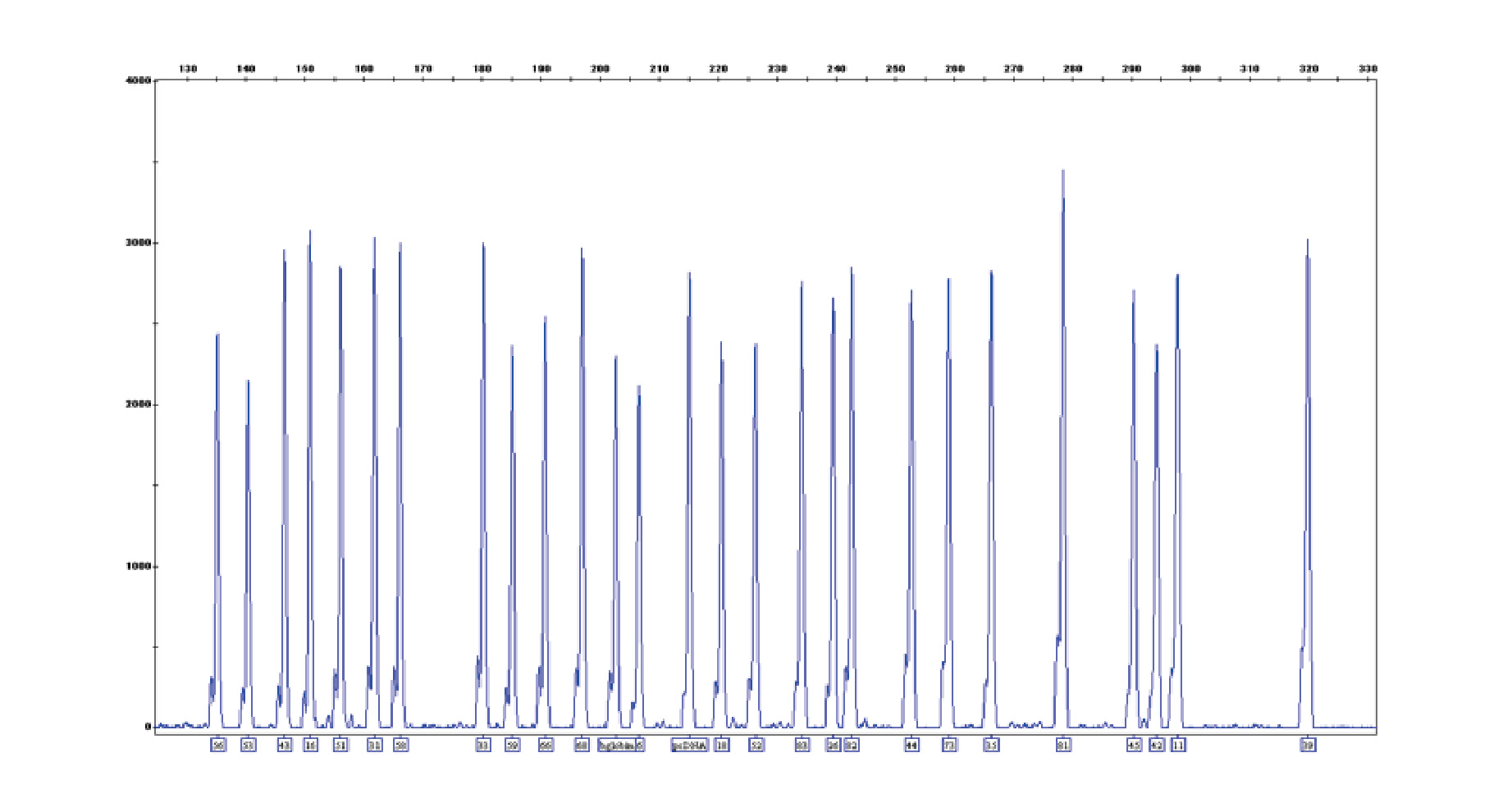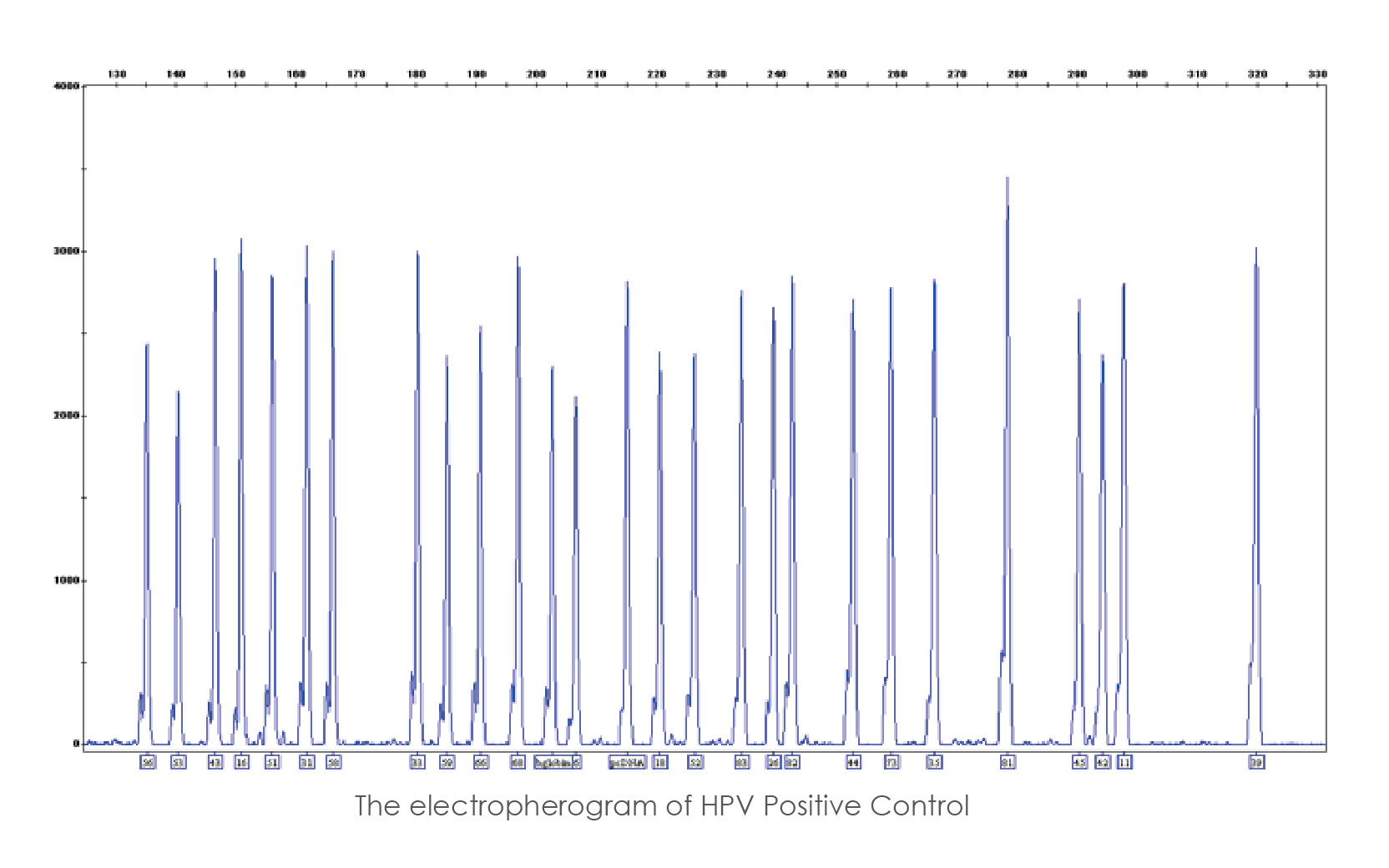 Features




· Precise: Detection and genotyping of 25 HPV types with AFA technology

Target the oncogenes of HPV genome: E6/E7




· Reliable: dUTP-UNG system to prevent carry-over contamination

Dual internal controls for whole process validity




· Convenient: Multiplex results in a single reaction

Less labor intensity thanks to automated sample analysis process


















Workflow
Sample: Cervical swab; liquid based cytology specimen (e.g., Thinprep® and SurepathTM)

Example electropherogram of HPV genotyping

Order Information
| | | | |
| --- | --- | --- | --- |
| Product | Package | P/N | Platform |
| SureX® HPV 25X Genotyping Kit (F488) [CE-IVD] | 50 tests/kit | 1060165 | ABI 3130/3130xl/3500 Dx/3500xL Dx |
| SureX® HPV 25X Genotyping Kit (F488) [RUO] | 50 tests/kit | 1060113 | ABI 3130/3130xl/3500 Dx/3500xL Dx |
References

[1] Ault K A. Epidemiology and natural history of human papillomavirus infections in the female genital tract[J]. Infectious diseases in obstetrics and gynecology, 2006, 2006.
[2] Schiffman M, Castle P. Human Papillomavirus: Epidemiology and Public Health [J]. Arch Pathol Lab Med, 2003, 127(930-934): 1.
[3] Walboomers J M M, Jacobs M V, Manos M M, et al. Human papillomavirus is a necessary cause of invasive cervical cancer worldwide[J].The Journal of pathology, 1999, 189(1): 12-19.
[4] W.A.A. Tjalma, C.E. Depuydt. Cervical cancer screening: which HPV test should be used—L1 or E6/E7? European Journal of Obstetrics & Gynecology and Reproductive Biology 170 (2013) 45–46.
[5] Scientific reports, 2015, 5.Davidson J D, Todd J, Hunter J, et al. Method summary[J]. Biotechniques, 2012, 53(3): 182-188.